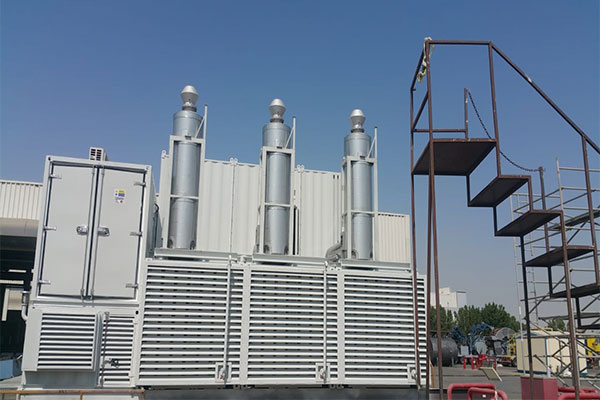 Engines produce noise – that is, sound waves. The perforated tubes inside the engine exhaust silencer create wave reflections that either interfere with the noise waves coming from the engine or cancel them out. The engine exhaust silencer is used to reduce the exhaust noise of the engine and turbine. The engine exhaust silencer is a combination of absorptive and reactive type silencer to attenuate high and low frequency noise. The gas turbine engine exhaust silencer will be absorptive type silencer. The engine exhaust silencer will be similar to that of vent silencer. It is generally offered in circular shape.
We Design, Manufacture & Supply International Quality Engine Exhaust Silencers with high grade raw materials for all types of internal combustion engines running on Diesel, HFO, Marine Diesel, Petrol, Natural gas, Biogas etc. These silencers throw the exhaust gases away from the engine and control the process of combustion. They are known for their durability and high quality.
We provide Shock Graded Exhaust Silencers (Marine application), Seismic Graded Exhaust Silencers (Thermal/Nuclear Power Plants) on request along with Wind Load, Thermal Stress analysis.
Application of Engine Exhaust Silencers:
Marine/Shipping Engines in Marine Industry
Diesel Generators
Diesel Engines
Natural gas Engines
Bio gas Engines
Fire Pump Driven Engines
Diesel Locomotive engines
PK Engineering silencers are offered in reactive type, absorptive type or the combination of both reactive and absorptive type. For large capacity Diesel Generator we also offer Silencers with soot collecting chamber and spark arresting arrangement. The reactive silencers will be of resonance type or multi-chamber type or combination of both.
We offer Engine exhaust silencer with Standard Model of 3 Grades
Silencers designed for 15dB Noise Reduction (Industrial Grade)
Silencers designed for 25dB Noise Reduction (Residential Grade)
Silencers designed for 35dB Noise Reduction (Hospital Grade)
Silencers designed for customer specific requirement (Custom Built)
For the design of the exhaust silencer the following information are needed
Engine exhaust flow (Kg/hr)
Exhaust temperature (°C)
Maximum allowable backpressure ( mmwc)
Silencer Inlet/ Outlet connection size (mm)
Existing Noise Frequency spectrum (63 Hz to 8Khz as per the below table
Freq(HZ)
63
125
250
500
1K
2K
4K
8K
Overall
Exhaust Noise SWL/SPL
dB
We specialize in custom designs and also suggest various options to suit your specific requirements