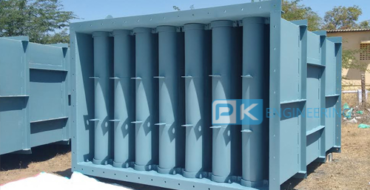 PKE provides a full range of metal bellows expansion joints designed for engine exhaust applications. These flex joints include blowers, fans, diesel engine generators, marine exhaust, train locomotive, earthmoving equipment, and many other hot low pressure applications. They provide vibration isolation and flexibility needed from thermal expansion and other movements.
Although we have countless pre-engineered designs, most common are expansion joints specifically designed for your systems and equipment. Designs are either high performance multi-ply bellows, single ply bellows, or made from economical corrugated metal flex hose.
Ends on the bellows vary quite a bit, and include standard flanges, various types of floating flanges, butt weld ends, socket weld ends, tube ends, and slotted cuff ends, among others. And expansion joints for specific equipment manufacturers, such as Caterpillar, Waukesha, Cummins, MTU and others are readily available.